Remember last week, when I made duck? Well I'm a big believer in using the bones to make stock (which I did) and then using that stock to make soup. I
love
soup made from homemade stock!
I wanted something that would match the rich flavor of the duck stock, so I decided to make my version of hot and sour soup.
(I think it would have been great to have taken pictures during the cooking process, don't you? Sigh... I forgot to take the camera out until it was time to serve.)
For my soup (so I made this recipe up out of my head... I think it is a pretty forgiving recipe, so use your judgement and taste with the ingredients):
1 Tablespoon vegetable oil
1 onion
1 red bell pepper
1.25 pounds extra lean ground turkey (I would have liked a nice duck sausage to compliment the stock, but I couldn't find any at my local store. Next time I'll order some from somewhere like Maple Leaf Farms)
1 Tablespoon cayenne pepper (or more - or less - depending on how hot you like it)
1/4 - 1/2 cup balsamic vinegar (this gives the soup a sweet, sour and slightly "soy sauce" flavor, without all the sodium)
1 quart duck stock
Heat the vegetable oil in a saucepan over medium heat. Brown the onion, red bell pepper and ground turkey. Once the turkey is browned through, add the cayenne pepper and cook for several minutes until combined. Then add the balsamic vinegar and cook for several minutes until combined. Add the stock and bring the soup to a boil. Let simmer for 30 minutes, or until flavors are well blended. You can add more cayenne if you like it spicier or more vinegar (adding a different type of vinegar, like a bright white wine vinegar, can lift the flavors if needed).
While the soup is simmering, I made roasted vegetables to go with my soup. I wanted something sweet to go with my soup, so I added a bit of maple syrup to the vegetables before roasting. Delicious!
For the vegetables:
1 sweet potato
1 red bell pepper
1 cup baby carrots
1 head cauliflower
1 can sweet corn
1/4 cup vegetable oil
3 Tablespoons fresh herbs (I used oregano, parsley and thyme)
1 Tablespoon maple syrup
1/2 cup Parmesan cheese
Dice the sweet potato, pepper, carrots and cauliflower into small pieces. (this will help speed the roasting process) Put all of the vegetables into a microwave safe bowl. Add the vegetable oil and cook in the microwave until the carrots and potatoes are soft.
Stir in the herbs and maple syrup and spread in a roasting pan. Roast in a 450 degree oven for 15 minutes. Stir the vegetables, sprinkle the Parmesan cheese over them and return to the oven. Roast another 10 - 15 minutes until vegetables are slightly brown.
To serve:
Spoon some of the roasted vegetables into your bowl.
Doesn't that look tasty? Then ladle some of the soup over the vegetables.
You'll end with a bowl that looks like this:
If you want to forgo the vegetables, the soup is tasty on its own. You'll get something that looks like this. You might enjoy the irony of my duck soup picture atop my pig cutting board. ;-)
I loved the way the sweet vegetables complimented the rich, spicy, sour soup! This was one of the best dinners I've made in a while. I can't wait to make this with duck sausage!
Check out Ott, A and the rest of the "Iron Chef Challenge: Duck" entries
here
!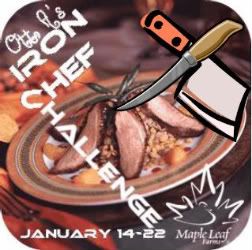 Mhnaty!
Pin It